Honda Lease in North Vancouver, BC
The most common misconception about leasing a new car is that you're 'renting' it. But when you choose a new car lease like the Honda Future Value Lease, you actually build equity that can be redeemed if you choose to buy the vehicle at the end of the lease. You can also get a more expensive vehicle, because you're only financing the depreciation, not the entire sticker price.
How does Honda Lease Work?
Typically, a new car lease in Canada is the most affordable way to acquire a new car. The vehicle's resale priced is estimated at the beginning of the lease, and the payment is based upon the depreciation, plus interest and finance charges. When you purchase a vehicle, the payment is based on the entire price of the vehicle, and you'll have to take a loss on the depreciation. As a result, Honda Future Value Lease customers are able to get into a more expensive vehicle, without tying up a lot of capital.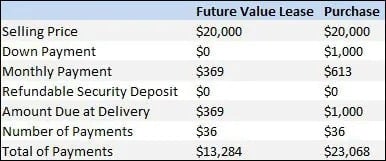 With a Future Value Lease™
You can afford the vehicle you never thought you could. Let's say you were originally looking to purchase a vehicle worth $12,500. With a Future Value Lease™, you could afford a vehicle worth $20,000 for the same monthly payment.
Honda Lease Made Just For You
The Honda Future Value Lease is created to fit into your budget. You can choose your monthly or bi-weekly payment, the length of the lease, even the number of kilometers that you plan to drive each year. Each lease allows for 2,000 km per month / 24,000 km per year. But if you need more, we're happy to oblige.
Get A New Honda Ride Sooner
One of the most popular benefits of leasing a car in Canada, is the ability to get a new car without the hassle of selling or trading in your old car. The Honda Future Value Lease comes with flexible terms, and affordable payments. So you can choose how often you want to get a new vehicle, and you won't have to worry about getting jipped on your trade-in.
Honda Protection That You Can Bank On
If your vehicle is ever stolen or totaled, most insurance companies will only reimburse you for the Fair (see: Current) Market Value, minus your deductible. That can often leave you owing money on your lease even though the vehicle is totaled. To protect its lease customers from such a situation, the Honda Future Value Lease comes with GAP Insurance (Guaranteed Asset Protection). If your vehicle is ever written-off by the insurance company, your GAP policy will cover the difference between the insurance policy and what you owe. Because with the Honda Future Value Lease, peace of mind comes standard. Some conditions apply. See Pacific Honda for details.
At The End of the Lease, You're in Control
The Honda Future Value Lease is a "Closed End Lease", which means that the vehicle's value at the end of the lease is agreed upon before you sign. You won't have to argue the book value, or pay any penalties once your lease is up. You'll also have the option to cash-in your equity by purchasing the vehicle for a pre-determined sum, or you can just walk away without any further obligation.
Should you want to get a new car, all you have to do is pick out the one you want. Since all of the fees and values are decided up front, the Honda Future Value Lease allows you to get out of the lease, or upgrade to a brand new car without any surprises.
For additional information on how a Future Value Lease™ with automatic GAP Protection can best work for you, please speak with our Lease Manager.
Examples included on this page take into account the following:
Total payments include down payment.
Zero down payment On Approved Credit (O.A.C.) only
Lease is responsible for excess wear and tear
Option to purchase at least end for $11,400
Purchase price is fixed at lease signing and varies by vehicle model, usage and length of lease
Purchase/Lease Example: Annual Percentage Rate (APR) is 10%. APR is subject to change.
Refundable Security Deposit example based on Ontario tax. Varies by province.
All Examples: Tax, license, insurance extra. Payments pay be slightly higher in some provinces. (Dollar amounts are subject to change.) Transaction subject to HCFI approval.
Contact Us