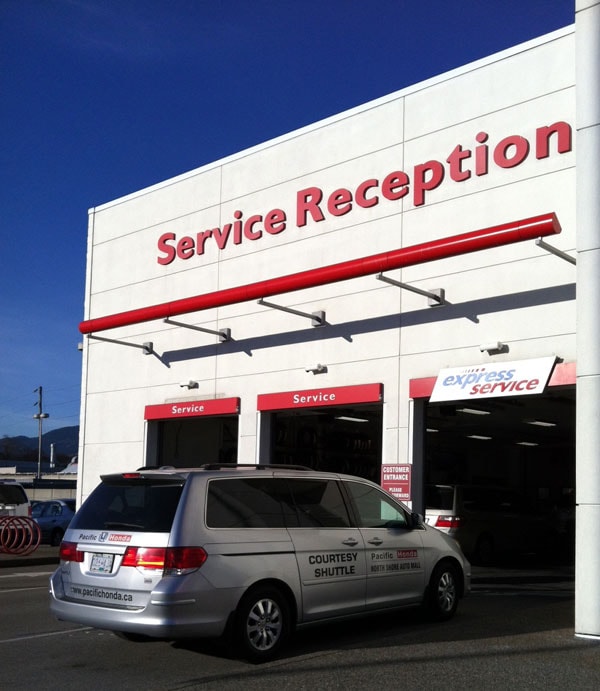 Due to Covid-19 our shuttle service is not available at this time.  We apologize for any inconvenience.
We offer door to door shuttle drop off and pick up service on the North Shore.
Please see the schedule below:
| Area | Mon - Fri  |     Sat |
| --- | --- | --- |
| Main North Shore area  | 7:30am-5:30pm  |     8:30am-5:00pm |
| Deep Cove/Mount Seymour Parkway | 7:30am-3:00pm |     8:30am-4:30pm |
| West Van Past Gordon Ave | 7:30am-3:00pm |     8:30am-4:30pm |
From 3:00 pm to 5:00 pm the coverage for our service shuttle shrinks down to  the area bound by West Vancouver Community Centre off Gordon Avenue in the West to Park and Tilford Mall in the East. Please see the highlighted area in the map above for pick up area available.
Pick up service can be arranged at the following locations from 3:00 pm to 5:00 pm
West Vancouver community Center off Gordon Ave.
Park Royal entrance # 11 on the south side opposite the roof top car wash.
Lynn Valley Library on Lynn Valley Road.
Edgemont village library.
Sea bus Terminal.
15th and Lonsdale Blenz coffee.
Park and Tilford Starbucks.
Capilano Mall Liquor store Entrance.
29thand Lonsdale Starbucks.
Service Opening Hours
Monday

Tires & Oil changes only.

Tuesday - Friday

8:00am - 5:00pm

Saturday

8:30am - 5:00pm

Sunday

Closed
See All Department Hours
Dealership Hours
Monday

8:00am - 7:00pm

Tuesday

8:00am - 7:00pm

Wednesday

8:00am - 7:00pm

Thursday

8:00am - 7:00pm

Friday

8:00am - 6:00pm

Saturday

8:30am - 6:00pm

Sunday

11:00am - 5:00pm
Parts Dept. Hours
Monday

8:00am - 5:00pm

Tuesday

8:00am - 5:00pm

Wednesday

8:00am - 5:00pm

Thursday

8:00am - 5:00pm

Friday

8:00am - 5:00pm

Saturday

8:30am - 5:00pm

Sunday

Closed
Service Dept. Hours
Monday

Tires & Oil changes only.

Tuesday

8:00am - 5:00pm

Wednesday

8:00am - 5:00pm

Thursday

8:00am - 5:00pm

Friday

8:00am - 5:00pm

Saturday

8:30am - 5:00pm

Sunday

Closed